Teacher Professional Development and K-12 Student Supplemental Learning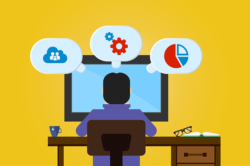 Engaging supplemental literacy support through blended learning for struggling learners, Tiers 2 and 3 students, and second language learners. All learning is evidence-based, and aligned to state and national standards. Modules can be taken in the classroom with teacher support, or online asynchronously. Baseline assessments are included to personalize learning paths and differentiate instruction for equity learning and access. Click here to see a presentation.
New: RazKids Reading A-Z and EBSCO reading are among the e-readers included with all licensing packages.
Social emotional learning and English language arts intersect in module lesson courses for teachers, parents, and students. Each student course is designed to fulfill 30 to 40 minutes of instruction for students, and meet one of the five CASEL SEL Frameworks for social-emotional learning competencies in self-awareness, self-management, social awareness, relationship skills, and responsible decision-making. Click here to download a presentation and learn about our e-learning modules.
Teacher professional development courses support all student modules, including ELA, ESOL, and SEL strategies.
Watch for our 2022 Teacher PD Catalog – out soon!